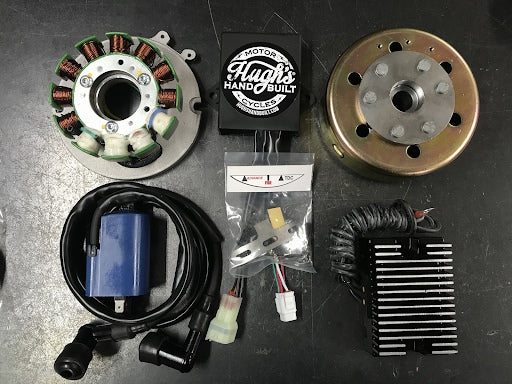 HHB Complete XS650 PMA Charging & CDI Ignition System
SKU: 108-0113
In stock

Inventory on the way
Hassle Free 90 Day Returns
Free USA Shipping For Orders Over $99*
Free Tech Support M-F 8am-5pm EST
We Ship Fast! No Backorders, No Drop Shipping, No BS.
Complete XS650 CDI System for XS650! Fully HHB Tested and Approved, Hugh's NEW CDI System is what these bikes have been begging for all along!  100% Crank Driven Ignition, utilizing a pre-programmed advance curve in the CDI Box, and a pickup coil at the flywheel for far more accurate and consistent timing than a cam driven system.  No more worries about cam chain tension/stretch affecting your timing, and you can remove rotational weight from the camshaft – all good things! Combined with its own internal 200W Charging System for a more compact design with less moving parts than other ignition systems.  And best of all, you CAN run totally battery-less if you so choose.  Just use a capacitor in place of the battery and you are good to go!  If you would like to run a battery (or have to, due to local laws) then wire it just the same using a battery.  Options are good, and you get the option of both with the this system.  The ignition gets its power from source coils on the stator, so even if the regulator was unplugged, the engine will still run. The NEW HHB XS650 CDI Ignition System Benefits Include:
High output 200W Charging.
Modern CDI Ignition Performance for your vintage XS650
Source Coils provide power for CDI Operation, leaving a full 200W Max power output for Lights and Accessories.
Ignition is self powered with no draw from Charging System
Magnetic Pick Up Coil allows for trouble free timing – set it and forget it
Adjustable Base Timing, via our adjustable timing tab.
Unified Package – Timing and Charging System combined for less moving parts (only the Flywheel moves, the rest of the components are fully stationary)
Battery-less operation is supported, our test bikes are a 1 kick machine even when cold.  You can still utilize a battery if you like of course.
No more need for added weight or moving parts attached to the camshaft.
Crank Driven for accurate ignition at all RPMS, no more worries about cam chain stretch affecting timing, especially at higher RPMs
80% Bolt-On System (Minor soldering/crimping needed, we provide a long harness for custom installs, some engine cases may require slight modification around the ignition pickup -uncommon, but worth noting.)
100% Hugh's HandBuilt Sourced – no more mixing and matching components from 2-3 different companies – our kit does it all, charging and ignition all in one!
Unmatched Hugh's HandBuilt Tech Support and Install Articles, wiring diagrams, and more – coming as soon as we start shipping!
What comes in the kit?
 200W Stator/Source Coil
 Magnetic Pickup Coil
Permanent Magnet Flywheel with Adjustable Timing Tab
MOSFET Regulator/Rectifier – $129 Upgrade on most other systems, included!
Ignition coil, wires and caps
NGK Spark Plugs
CDI Ignition Box
Wiring Harness with Relay
Wiring Grommet for engine cases
All Mounts, Hardware, woodruff key, and plugs to fit the system to your XS650
All items are in stock and available for immediate worldwide shipping from our Archbold, Ohio USA warehouse.